Kids love them. That's true. That isn't to say that they're the only fans though. Adults cannot get enough of this all-time classic too. Mini Ferris wheel rides take their user high, but not too high, and transports them along a journey to the top. Why have these rides grown in popularity with both theme park owner and guest alike? There are several reasons.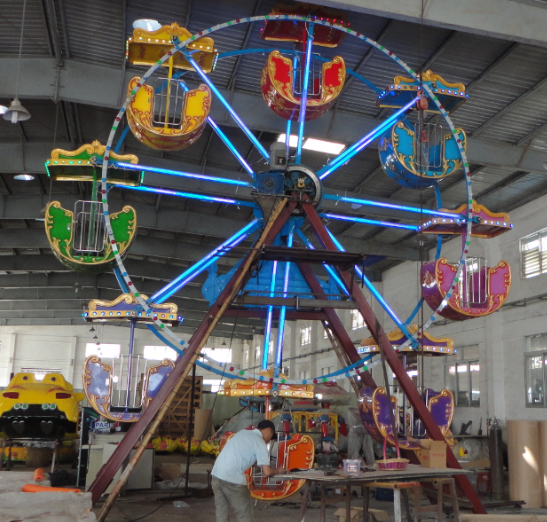 Children Don't Get Scared
Traditional ferris wheels may be a little too frightening for JR. Parents want rides that their whole family can enjoy together. That's where mini ferris wheels come in handy. You get the full experience of being on a ferris wheel, without all the discomfort of being practically a half mile in the air.
Fuel Efficient
Mini ferris wheels are smaller than their traditional sized counterparts. Because of this it requires less energy to get them to work. It's easy to get a mini ferris wheel up and running on only a little bit of gas. I guess that's why many park owners have chosen them over their larger counterparts.
Easy To Transport
Mini ferris wheels are easy to transport. Most of them come apart so it isn't hard to move all the pieces. Larger ferris wheels typically come with larger parts. They are harder to move than the smaller version. Enjoy being able to pull parts to the other side of town!
Mini Ferris Wheels Can Fit In Smaller Venues
Sometimes there isn't a lot of space for a circus, fair or park. Of course the leader of the event will still need plenty of rides and things to entertain guests. Getting mini versions of rides means you'll be able to fit a lot more in to a tiny space. Need a ferris wheel and a roller coaster but only have room for one? Get mini versions of both so you can have each of them in your park.
Easier To Clean
Yes! The smaller something is the easier it is to clean. Get the small ferris wheel and you'll notice that its rub down will take a fraction of the time. Those larger ferris wheels are almost impossible to clean and polish because they're so large. With a smaller one you'll be able to get to every corner. Your machine will absolutely shine for all your guests.
They Cost Less
Here is something guests will like. It cost less to ride a mini ferris wheel, at least it should, because they cost a lot less to rent. This is also a win for the park owner. A cheaper ride means more money in the budget for advertisements and other customer enticing activities.
There Popularity Is Going To Continue To Grow
This ride is only going to become more and more popular. More guests are going to want to ride it and more park owners are going to want to provide it. Be sure to see if you can see what all the fuss is about. Demand to ride this ride. You'll thank me later.